The International Parthenium Research News Group – IPRNG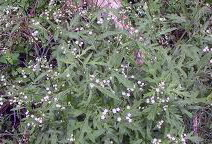 Parthenium hysterophorus L. is the worst weeds in the world. Parthenium is a herbaceous annual member of the Asteraceae, reaching a height of 1-2+ m in good soil. Parthenium requires 4-6
weeks of germination. These plants can produce more than 30K seeds, distributed by floating on water and in the mud adhering to vehicles and animals.
Parthenium is also known as Star weed, Carrot weed, Congress weeds, White top, Gajar ghas etc. It is known to cause asthma and dermatitis.
Parthenium is a curse for the bio-diversity. The major component of toxins being parthenin, vanillic acid, anisic acid and parahydroxy benzoic acid are lethal to humans and pets. Parthenium now occurs throughout the tropical and subtropical America.
GAJAR GHAS, also known as parthenium hysterophorus, is among the ten worst type of undesirable weeds on this planet. It can be unhealthy for the many dwelling beings; it offers virtually messed up many of the helpful herbs in addition to plants on the earth. Research who's ruins precisely what expands near the idea, causes diverse skin tone conditions within human beings of course, if consumed, leads to diverse disorders with cows as well. Previous, experts indicated burning down the following grow the minute it is actually uprooted since it is plant pollen grains, moved from the breeze, could select the several tiny holes of pets in addition to mankind plus trigger skin complaints in them.
Societies Working on Parthenium Management
Society for Parthenium Management,
Contact person:P.Oudhia, 28-A,Geeta Nagar,Raipur-492001, India. [email protected]; [email protected]
Parthenium Action Group Inc.,
Contact person:Scott W.Dearden, [email protected]